Hello Guys,
After some month of works, I'm please to show you the first version of my Pinguino Automaton.
Hardware description:
12 opt-insulated inputs, 10-30 V
8 Relay outputs
1 Serial port RS232C
1 USB Port (obviously !)
1 Display port for alphanumeric LCD in 4 bits mode, with R/W at ground
2 User buttons. Theses input could be used in analog mode to increase the button nuber.
1 Reset button
1 Power LED
1 User LED
1 12V Power jack
It's designed to use a PIC18F45K50 but could be used with a PIC18F4550 (external crystal and 2 inputs lost)
Some pictures, Schematic and PCB layout below: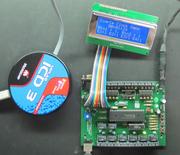 I designed this with KICAD. PCB was done by E-circuits.fr.
It's a double sided PCB with metalized holes and ground planes.
It cost approximately 10€ for PCB and 100€ for the equipped circuit.
I waiting for your comments and suggestions.
Regards,
Xavier